APIs & Services

CAN Bus

Modbus

CANopen

Signal Composer

Signal composer plugins demo

Redis tsdb

Hello World

GPS

Cloud Publication Binding

Secure Storage

Platform info binding

Spawn Binding

Secure Gate Oidc

Redpak Binding
Running/Testing
By default Kingpigeon devices uses a fix IP addr (192.168.1.110). You may need to add this network to your own desktop config before starting your test. Check hardware documentation on Device Store / King Pigeon
sudo 

ip a add  192.168.1.1/24 dev eth0 

# eth0, enp0s20f0u4u1 or whatever is your ethernet card name


ping 192.168.1.110 

# check you can ping your TCP modbus device


check default config with browser at http://192.168.1.110

Start Sample Binder
afb-binder 

--name

=

afb-kingpigeon 

--port

=

1234  

--ldpaths

=

src 

--workdir

=

.

 

--verbose



open binding UI with browser at http://localhost:1234/devtools/index.html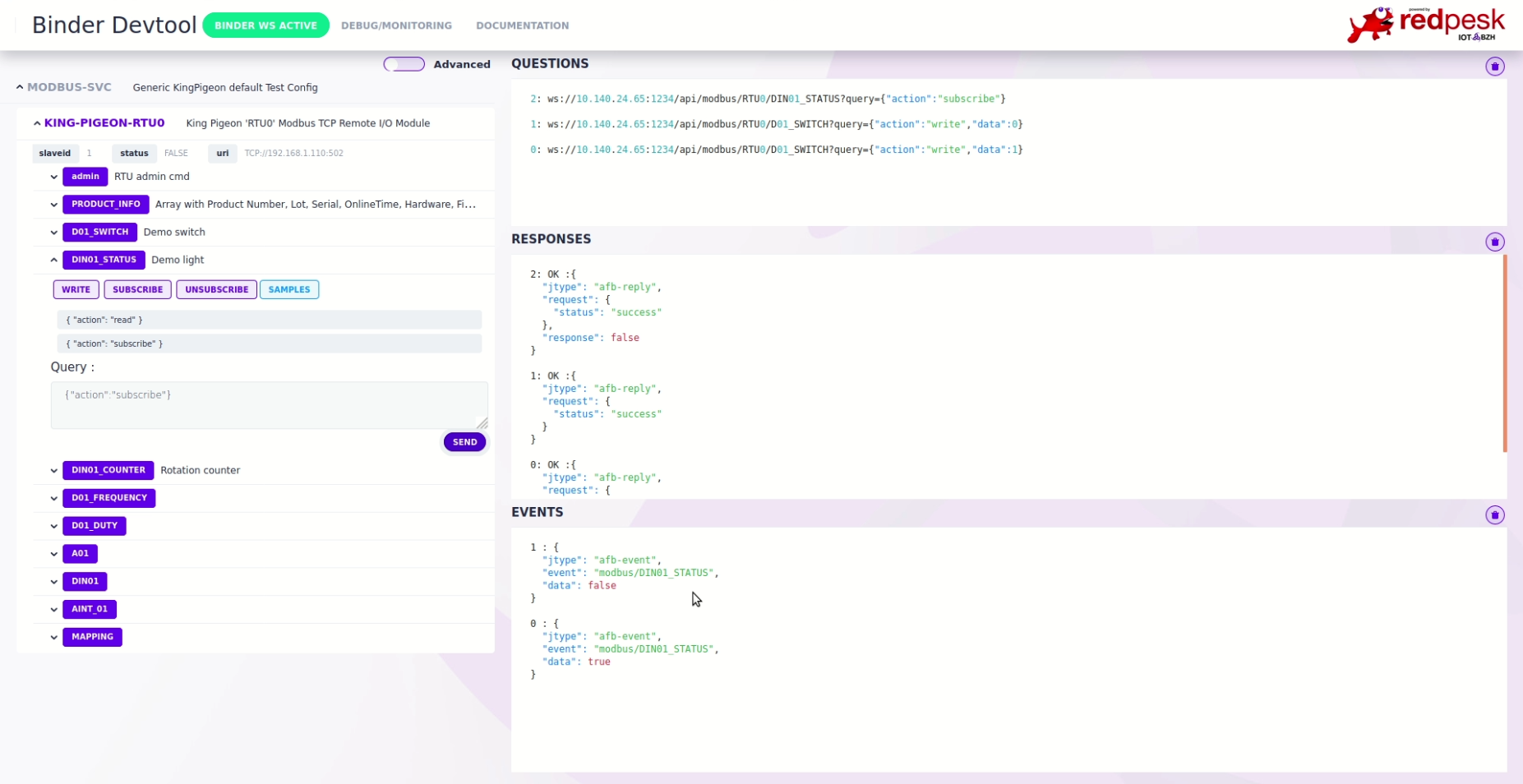 Test Binder in CLI
afb-client 

--human

 ws://localhost:1234/api


# you can now send requests with the following syntax : <api> <verb> [eventual data in json format]




# here are some available examples for modbus binding :


modbus ping
modbus info
modbus RTU0/D01_SWITCH 

{

"action"

:

"write"

,

"data"

:1

}


modbus RTU0/D01_SWITCH 

{

"action"

:

"read"

}


modbus RTU0/D01_SWITCH 

{

"action"

:

"write"

,

"data"

:0

}


modbus RTU0/D01_SWITCH 

{

"action"

:

"read"

}



Adding your own config
Json config file is selected from afb-binder –name=afb-midlename-xxx option. This allows you to switch from one json config to the other without editing any file. 'middlename' is used to select a specific config. For example –name='afb-myrtu@lorient-modbus' will select modbus-myrtu@lorient-config.json.
You may also choose to force your config file by exporting CONTROL_CONFIG_PATH environnement variable. For further information, check binding controller documentation here
Warning: some TCP Modbus device as KingPigeon check SalveID even for building I/O. Generic config make the assumption that your slaveID is set to '1'.
export 

CONTROL_CONFIG_PATH

=

"

$HOME

/my-modbus-config-directory"


afb-binder 

--name

=

afb-myconfig 

--port

=

1234  

--ldpaths

=

src 

--workdir

=

.

 

--verbose




# connect with your browser on http://localhost:1234/devtools/index.html